As of January 1st 2014, the Internet Corporation for Assigned Name and Numbers (ICANN) requires that all accredited registrars verify the Whois contact information for all new domain registrations, domain transfers and registrant contact modifications.
If the registrant (domain owner) doesn't do this within 15 days then the registrar must suspend the domain name per ICANN rules.
As an ICANN accredited registrar, NameBright is required to verify all email addresses and phone numbers that are associated with any domain names in our system.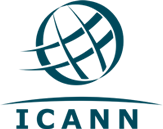 ICANN is responsible for ensuring a stable and secure Internet, and develops Registrar and Registrant policy.
---